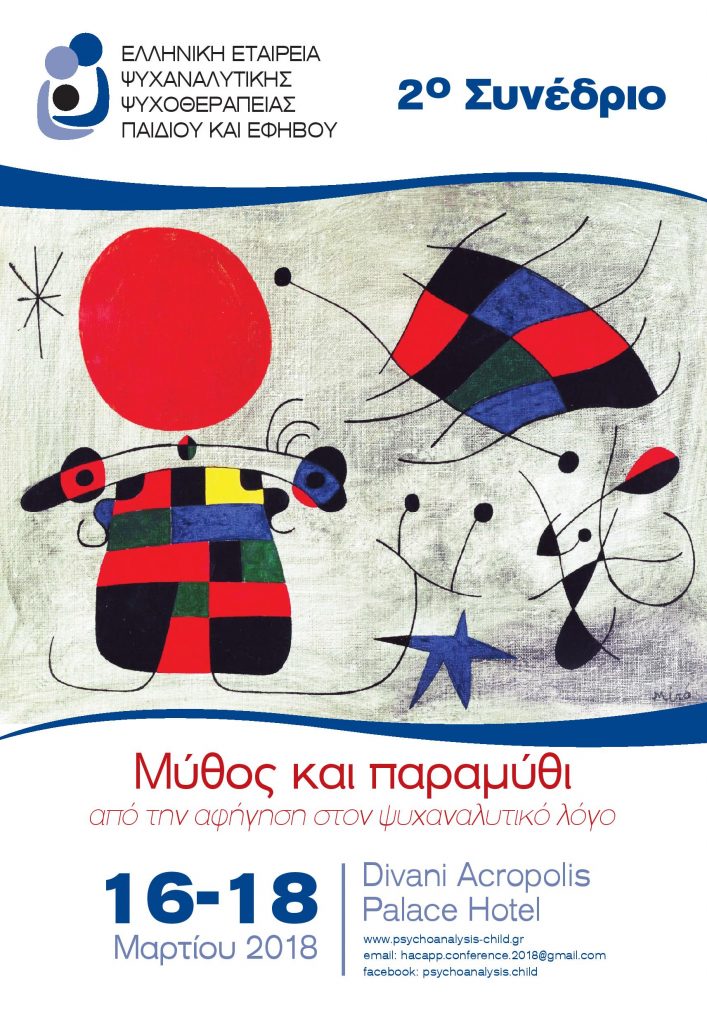 Conference announcement
«MYTH AND FAIRY TALE: FROM NARRATIVE TO PSYCHOANALYTICAL SPEECH»
March 16-18 2018, ξενοδοχείο Divani Palace Acropolis

The aim of the conference is to be a space of dialogue and exchange of thoughts and reflections in relation to the connection of psychoanalysis with the function of myths and fairy tales. As early as 1910, Freud, using the myth of Oedipus, emphasizes the inseparable relationship between mythology and psychoanalysis, while his reference to "mythical and historical" times is well known, distinguishing the unconscious from the conscious functions.
The Myth, always present in all times and places of human existence, was, among other things, an attempt to interpret the universe , human nature and the forces that control it. In a symbolic way and through the archetypes of its structure, it metabolizes anxieties, passions and the inexplicable, transforming them into culture. Related to the Myth but also differentiated, the Fairy Tale as it is passed from generation to generation is the connecting web of each community , a single nucleus of community evolution over time, offering the audience the "fairy tale", the consolation. Narrator and audience through a constant interaction, using constant patterns and shaping new ones, preserve the memory and give the fairy tale its own historicity. Passing effortlessly from humans to animals and plants with an animistic, symbolic function they try to give meaning to the mental evolution and the conflicts that it presupposes.
In psychoanalysis and clinical practice the exploitation of Myths and Fairy Tales has always been active. In an attempt to explore the unconscious several times mythical archetypes come to symbolize impulses and conflicts, the relationship with the self and the object. Let us not forget that the therapist and the patient try to form their own narrative towards the "mythical monsters" of the unconscious, through the dream, the free association, the game but also through the "reading" of the transference – anti-transference movements.
In 1897 Freud wrote to Fliess : one understands why Oedipus the Tyrant highlights an impulse that we all recognize, because we all feel within us the traces of its existence.
Invited speakers
Aggelopoulou Anna , Social Anthropologist, Psychoanalyst Sorbonne II Paris
Georgousopoulos Kostas , Author – Critic, Honorary Doctor of the University of Athens
Katrinaki Emmanuella, Dr. of Social Anthropology
Rustin Margaret, Honorary Consultant Child and Adolescent Psychotherapist at the Tavistock Center, Child Analyst and Clinical Associate of the British Psychoanalytical Society
Rustin Michael, Professor of Sociology at the University of East London, Visiting Professor at the Tavistock Center and at the University of Essex, Associate of the British Psychoanalytical Society Continue reading "Myth and Fairy Tale"