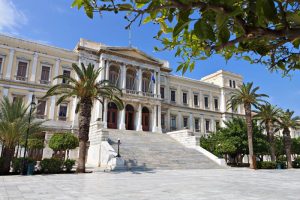 Date: 31st May – 1st June 2019, Syros island, Greece
The themes of the workshop will be: "Who, Whose, How: Reflecting on the 'Third' in Complex Today's Families"
Dear colleague,
We are happy to invite you to the 11th Syros Summer Workshop on Psychoanalytic Psychotherapy, organised by the Hellenic Association of Child and Adolescent Psychoanalytic Psychotherapy, under the auspices of EFPP. This year the Syros Summer Workshop celebrates 20 years of a living tradition, which combines psychoanalytic studies with Greek island summer weather. The workshop takes place in the "Yiannis Ritsos" conference center next to Hermoupolis town hall, the capital of the Cycladic island of Syros.
All workshop presentations (theoretical and clinical) are discussed in small Anglophone and Francophone groups, and then are reported back to the plenary for a general discussion. The high-quality presentations in the plenary, and the exchange of ideas in the discussion groups have always been characterized by a friendly atmosphere; the same atmosphere has accompanied us after each day's work to the seaside and the local tavernas, making the participation in the Syros Summer Workshop a unique experience.
This year the workshop will be held from Friday 31st of May – Saturday, 1st of June, 2019. The theme of the workshop is "Reflecting on the 'Third' in Complex Today's Families", and it sets out to explore the presence/absence/ various forms of existence of the 'Third', in regard to the multiple and complex forms of contemporary families.
For registration please contact the Hellenic Association of Child and Adolescent Psychotherapy at info@psychoanalysis-child.gr, providing your name, institution and position, and our assistant will contact you in order to finalise your registration. Below you will find the programme of the 11th Syros Summer Workshop, information about the invited speakers, and practical details regarding fees, accommodation, and travel.
We are looking forward to welcoming you to Syros this summer!
The organizing committee
Effie Layiou-Lignos, Olympia Sklidi, Lida Anagnostaki
Programme
Continue reading

"11th Syros Summer Workshop"